Foundation Governance
The Foundation of the Consortium of Multiple Sclerosis Centers is committed to operating under the principles of and in compliance with all applicable laws, rules and regulations, including the guidelines and standards set forth by accrediting continuing education providers.
The Foundation of the CMSC agrees:
To utilize contributed funds for actual and reasonable expenses of the program or initiative specified in the initial request, with addendums to be filed with grantor's approval should reallocation be necessary;
To use funds in strict accordance with the budget submitted with the grant request;
To furnish contributors with reconciliation reports concerning the expenditure of grant funds, supported by appropriate substantiation; and.
To promptly report any unused grant funds.
Programs or initiatives supported by the Foundation of the CMSC will not promote individual products, directly or indirectly, with any activity focused on educational content being free from commercial influence or bias.
The Foundation of the CMSC is responsible for designing and conducting programs and initiatives. The Foundation of the CMSC will disclose financial or other relationships between financial contributors and will provide this information in writing. Content development will include input from independent professional and/or scientific sources, and will make selection of presenters(s), faculty or advisory panels based on balance and independence.
The Foundation of the CMSC will ensure a meaningful disclosure is made of financial or in-kind support and any significant relationship between the organizers of FCMSC programs or initiatives and donors or contributors (e.g., employee, grant recipient, principal investigator in clinical trial, on speakers' bureau, owner of significant interest or stock, etc.).
The Foundation of the CMSC agrees to appropriately acknowledge educational or charitable support in program brochures, syllabi and other materials.
---
Board of Trustees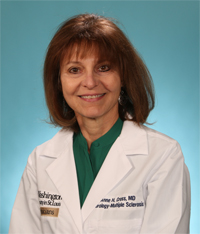 Anne Cross, MD
President (2022-2024)

Anne H Cross, MD, is Professor in the Department of Neurology at Washington University School of Medicine in St Louis, MO. She has been a member of the Consortium of MS Centers for many years, and previously served as Secretary of the CMSC Board of Governors. She received her medical degree from the University of Alabama School of Medicine and completed her neurology residency training at George Washington University, serving as Chief Resident in her final year. Following 6 years of fellowship training in the Neuroimmunology Branch at the National Institutes of Health, Saint Jude Children's Research Hospital, and Albert Einstein College of Medicine, Dr Cross was awarded the Harry Weaver Neuroscience Scholar Award from the National Multiple Sclerosis Society. Her research interests include understanding the mechanisms involved in pathogenesis of inflammation and demyelination in the central nervous system (brain and spinal cord) in MS and related diseases. Dr Cross has authored or coauthored over 200 peer-reviewed journal articles. In 2019, Dr Cross received the John Jay Dystel Prize for MS research awarded jointly by the American Academy of Neurology and National MS Society.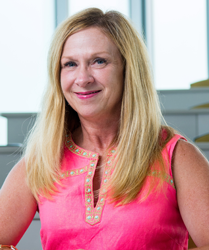 Jacquelyn L. Bainbridge, BSPharm , PharmD, FCCP, MSCS, FAES
Secretary (2022-2024)

Jacquelyn L. Bainbridge, BSPharm, PharmD, FCCP, MSCS, FAES, is a Professor at the University of Colorado Anschutz Medical Campus, where she holds joint appointments in the Skaggs School of Pharmacy and Pharmaceutical Sciences, Department of Clinical Pharmacy, and the Department of Neurology in the School of Medicine. Dr Bainbridge received her doctorate in pharmacy from the University of Colorado in Denver, where she subsequently completed a specialty residency in neurology.
Dr Bainbridge is a Multiple Sclerosis Certified Specialist (MSCS) who is actively involved in clinical research in many areas of neurology, including multiple sclerosis (MS), epilepsy, Parkinson's disease (PD), back pain and cannabis. Currently, she is working on 3 clinical trials investigating cannabis for the treatment of back pain, PD and autism, sponsored by the Colorado Department of Public Health and Environment (CDPHE), 1 synthetic cannabidiol (CBD) study involving patients with Fragile X syndrome. Dr. Bainbridge is involved in 1 additional clinical trial sponsored by the CDPHE, for back pain in patients not on opiates or on opiates, with a dose reduction. Dr Bainbridge continues to study the safety and efficacy of antiepileptic drugs in older adults. She was previously an investigator for several National Institutes of Health (NIH)-funded trials researching drugs that may be neuroprotective in PD. Dr. Bainbridge has completed 1 clinical trial using a synthetic CBD product in patients with scleroderma. She has published several articles in professional journals, including Epilepsia, Pharmacotherapy, and the American Journal of Health-System Pharmacy. She has reviewed and written several book chapters on MS, epilepsy, migraine, chronic pain, women's issues, pharmacokinetics, and the practice of pharmacy. Dr Bainbridge is a frequent lecturer on topics of neurologic and pharmacologic interest, including MS, chronic pain disorders, epilepsy, migraines, movement disorders, neuroprotection, restless legs syndrome, Huntington's disease and the administration of cannabis for therapeutic intent.
Dr Bainbridge is a member of numerous professional organizations, including The Consortium of Multiple Sclerosis Centers (CMSC), The National Multiple Sclerosis Society (NMSS) Epilepsy Foundation of Colorado, the American Academy of Neurology, the American Epilepsy Society, Epilepsy Foundation of America, American College of Clinical Pharmacy, American Association of Colleges of Pharmacy, Colorado Pharmacists Society, and American Society of Health-System Pharmacists. She is the past president of the board of directors for The Restless Legs Syndrome Foundation and The Epilepsy Foundation of Colorado. Dr. Bainbridge is currently on the Board of Governors for The Consortium of Multiple Sclerosis Centers, and on the Board of Directors for The Epilepsy Foundation of Colorado Professional Advisory Board and The American Lung Association. Dr. Bainbridge has been elected as a Fellow of the American College of Clinical Pharmacy (FCCP), Fellow of the American Epilepsy Society (FAES) and has won several student preceptor and teaching class awards.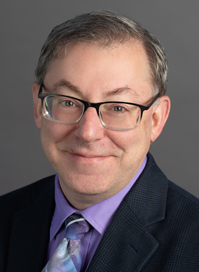 Edward Fox, MD, PhD, FAAN
Treasurer (2022-2024)
Dr. Fox is the director of the Multiple Sclerosis Clinic of Central Texas, and is the founding partner of Central Texas Neurology Consultants in Round Rock, Texas. After receiving a Bachelors Degree at Washington University in St. Louis, he completed the Medical Scientist Training Program for his M.D., Ph.D. and his Neurology residency at Baylor College of Medicine in Houston. His Ph.D. in Immunology was awarded for the thesis "Growth Requirements of Human Suppressor T Lymphocytes." Since starting a private Neurology practice in the Austin area in 1992, he has been involved in numerous MS research protocols and has spoken internationally on topics related to Neuroimmunology. Dr. Fox is a Fellow of the American Academy of Neurology. He served as President of the Texas Neurological Society in 2019-2020. He has an appointment as Clinical Associate Professor of Neurology at the University of Texas Dell Medical School at Austin.
Nora Fritz, PhD, PT, DPT, NCS
Senior CMSC Member at Large (2022-2024)
Dr. Fritz is an Associate Professor in the Physical Therapy Program, Department of Health Care Sciences and Department of Neurology at Wayne State University School of Medicine. Dr. Fritz is the Director of the Neuroimaging and Neurorehabilitation Laboratory (http://cphs.wayne.edu/research/nnl.php). The long-term goal of the laboratory aims to optimize recovery of individuals with neurodegenerative diseases. Her current research interests include examining the influence of cognition on motor performance and motor recovery, developing and testing exercise interventions to improve function, and linking clinically observable function to neuroimaging.
Dr. Fritz's research has been recognized by the Consortium of Multiple Sclerosis Centers, where she has twice won the Whitaker Prize for Multiple Sclerosis Research, and the Huntington Study Group, where she was recognized as a Shoulson Scholar. Dr. Fritz serves on the Academy of Neurologic Physical Therapy Research Committee and is an invited member of the Academy of Neurologic Physical Therapy's Balance and Falls Clinical Practice Guideline Development Group.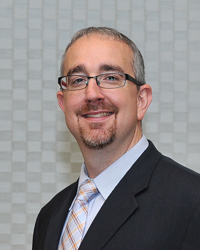 Scott Newsome, DO
Past-President

Dr. Scott Newsome specializes in the care of patients with neuroimmunological and neuroinflammatory disorders of the central nervous system. He has special interest in evaluating and treating patients with multiple sclerosis, transverse myelitis, neuromyelitis optica, and stiff person syndrome. Dr. Newsome works within the division of Neuroimmunology and Neurological Infections at Johns Hopkins Hospital. He joined the Johns Hopkins Multiple Sclerosis and Transverse Myelitis centers after completing fellowship and he is currently the director of the Johns Hopkins Neurosciences Consultation and Infusion Center and Stiff Person Syndrome Center. Dr. Newsome is also Director of the Johns Hopkins Neuroimmunology Clinical Fellowship Program and Co-Director of the Multiple Sclerosis Experimental Therapeutics Program.
Dr. Newsome received his medical degree from the New York College of Osteopathic Medicine and graduated with honors. During Dr. Newsome's neurology residency, he was awarded the Golden Apple Outstanding Resident Teaching Award and later was chosen to be chief resident. He subsequently went on to complete a fellowship in neuroimmunology at The Johns Hopkins Hospital with the support of a Sylvia Lawry Physician Fellowship from the National Multiple Sclerosis Society.
Dr. Newsome's main research focuses on helping identify and test novel therapies and therapeutic strategies in multiple sclerosis and other neuroimmunological disorders. In addition, other research endeavors include validating the use of new quantitative clinical outcome measures and imaging techniques in multiple sclerosis and identifying risk factors of disease onset and severity, response to treatment and long-term outcomes in neuroimmunological disorders. Dr. Newsome is also Past-President of the Consortium of Multiple Sclerosis Centers, an advisor for the National Multiple Sclerosis Society, a steering committee member of the International MS Differential Diagnosis Consortium, Founder and Chair of the International Stiff Person Syndrome Consortium, and a member of the Miller-Coulson Academy of Clinical Excellence.