It is currently estimated that more than 400,000 Americans and 2.5 million people worldwide are living with MS. In order for MS patients to continue receiving the best care for generations to come, it is imperative that the workforce of MS healthcare professionals be large enough to meet the growing demands.
The CMSC has focused on aggressively recruiting and training the community of dedicated specialists in the field. Our goal is to encourage medical students and other healthcare professionals to choose MS as an initial focus of study or to pursue more advanced and specialized training as part of their studies. Recipients are able to apply new skills and share knowledge with colleagues within their academic institution and practice settings.
2022 Medical Student Research Presenters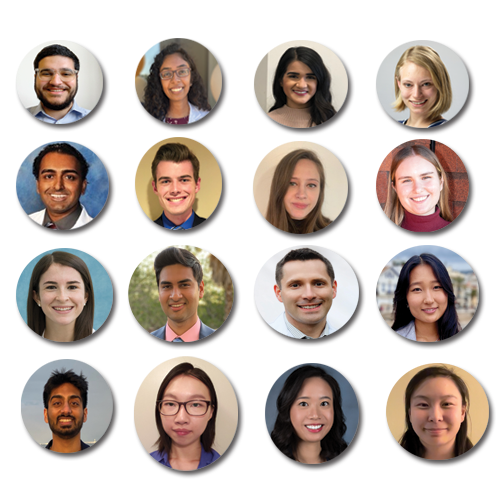 By increasing the number of well-trained healthcare professionals in MS, and ensuring that they are well-trained and well-prepared, we can continue to deliver the finest care, improve the quality of life for patients and families living with MS, and ultimately find a cure. For the CMSC to continue providing comprehensive care and specialized services to MS patients, it is paramount that the community of MS professionals has access to specialized training.
The Foundation of the CMSC funds scholarships for:
Neurology residents;
Research Scholarships for medical students.
Recipients of Neurology Resident annual meeting scientific scholarships are able to apply new skills and share knowledge with colleagues within their academic institutions and practice settings.
Make a donation to support FCMSC Annual Meeting scholar
2017-2021 Medical Student Research Scholars and Mentors
One of the most promising ways to build a committed and competent MS Workforce of the Future is to expose students to new challenges under the mentorship of top-tier experts. The MS Summer Research Scholar program pairs medical students with an impressive group of leading MS research and clinical experts for two-month projects covering a wide spectrum of MS research.
Click here to read personal feedback from FCMSC Research Scholars and their mentors.
These students are invited to present the results of their work at the following year's CMSC annual scientific meeting, encouraging a new pool of passionate MS professionals.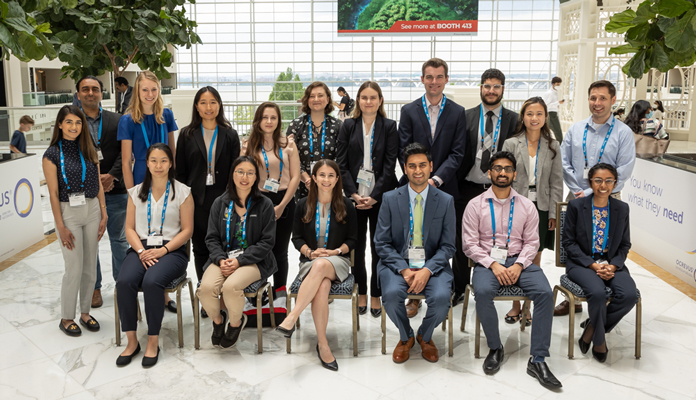 Results of the work of 2021 Research Scholars were invited for presentation at the annual CMSC meeting in May, 2022. The following scholars' work was presented in poster form.
FCMSC Medical Student Research Scholarship Presenters Annual Meeting 2022

Genentech Scholars
Scholar
Research Project
Research Institution
Mentor
Salena Bath
Multiple Sclerosis and COVID-19: Patient's Experience Survey
Fraser Health MS Clinic (Burnaby Hospital)
Dr. Galina Vorobeychik
Delaney Cairns
Multiple Sclerosis Patients Diagnosed During the First Year of COVID Have Higher Healthcare Utilization.
The Medical College of Wisconsin
Dr. Ahmed Obeidat
Naveen Dhawan
Mitochondrial measures in neuronally-enriched extracellular vesicles predict brain and retinal atrophy in multiple sclerosis
Johns Hopkins University School of Medicine
Dr. Pavan Bhargava
Brian Florenzo
Walking Capacity, Endurance, and Behavior in Pediatric Multiple Sclerosis
University of Virginia
Dr. J. Nicholas Brenton
Bristol Myers Squibb Scholars
Scholar
Research Project
Research Institution
Mentor
Omar Alaina
Development of Artificial Intelligence Platforms for Automated Expanded Disability Status Score Data Extraction from Historical Health Records
McGovern Medical School
Dr. John A. Lincoln
Priyanka Algu
Vaccine-Mediated SARS-Cov-2 Memory T-Cell Repertoires in Patients with Multiple Sclerosis and Related Disorders
Northwell Neuroscience Institute and Lenox Hill Hospital
Dr. Asaff Harel
Foundation of the CMSC Scholars
Scholar
Research Project
Research Institution
Mentor
Jaklin Gukasyan
Racial Differences in Visual Outcomes in Patients with MS, NMOSD, and MOGAD
Keck Medicine of USC
Dr. Lilyana Amezcua
Camila Ishueva
Brain and Spinal MRI Lesion Distribution in Multiple Sclerosis Patients with Disabling Tremor
Medical College of Wisconsin
Dr. Ahmed Obeidat
Hannah Kelly
Prevalence of Iatrogenic Central Nervous System Inflammation at a Tertiary Neuroimmunology Clinic
Multiple Sclerosis and Neuroimmunology Program, University Hospitals of Cleveland, Case Western Reserve University School of Medicine
Dr. Hesham Abboud
Vijay Letchuman
The diagnostic potential of the central vein sign in multiple sclerosis using a fully automated image analysis tool (CVSnet): A prospective multicenter pilot study
NIH-NINDS, Dept of Translational Neuroradiology Section
Dr. Daniel Reich
Yilan Liu
A New Look at Information Processing Speed in Multiple Sclerosis: Visual Search Organization and Concurrent Disability
The University of Alabama at Birmingham
Dr. Victor Mark
Kaleigh Olmsted
The Effect of Ocrelizumab on Antibody Respnses to EBV
The University of Texas health Science Center in Houston
Dr. John W. Lindsey
Juweiriya Ahmed
Associations of structural visual metrics with psychosocial outcomes and physical activity in youth with MS-related neuroinflammatory disorders (MOG/NMOSD)
Pediatric MS and Neuroinflammatory Disorders Center, The Hospital for Sick Children
Dr E. Ann Yeh
Geoffrey Liang
The Gut Microbiota and Pediatric Multiple Sclerosis
UBC Djavad Mowafaghian Centre for Brain Health
Dr. Helen Tremlett
Kamyar Taheri
Developing an imaging marker for MS progression for prospective and retrospective studies
University of British Columbia
Dr. Shannon Kolind
The Foundation of the CMSC salutes the supporters of MS Workforce of the Future initiatives:
Basic Home Infusion (BHI)
Biogen
Bristol Myers Squibb (BMS)
Consortium of Multiple Sclerosis Centers
EMD Serono, Inc.
Inserra Family
Novartis Pharmaceuticals
With your help and support of the Foundation of the CMSC, we can ensure that future generations of people with MS will receive the quality healthcare they need and deserve.