It is currently estimated that more than 400,000 Americans and 2.5 million people worldwide are living with MS. In order for MS patients to continue receiving the best care for generations to come, it is imperative that the workforce of MS healthcare professionals be large enough to meet the growing demands.
The CMSC has focused on aggressively recruiting and training the community of dedicated specialists in the field. Our goal is to encourage medical students and other healthcare professionals to choose MS as an initial focus of study or to pursue more advanced and specialized training as part of their studies. Recipients are able to apply new skills and share knowledge with colleagues within their academic institution and practice settings.
2023 Medical Student Research Presenters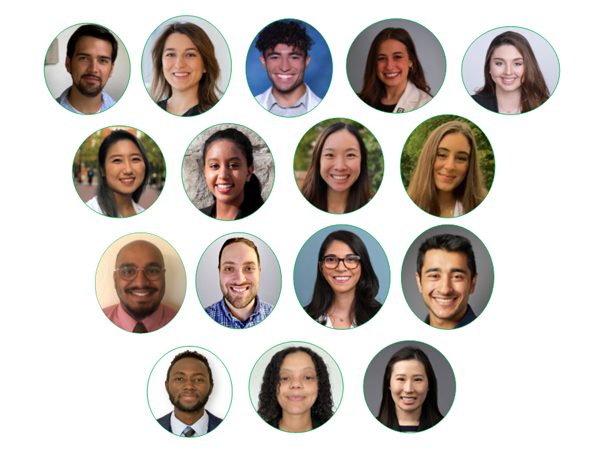 By increasing the number of well-trained healthcare professionals in MS, and ensuring that they are well-trained and well-prepared, we can continue to deliver the finest care, improve the quality of life for patients and families living with MS, and ultimately find a cure. For the CMSC to continue providing comprehensive care and specialized services to MS patients, it is paramount that the community of MS professionals has access to specialized training.
The Foundation of the CMSC funds scholarships for:
Neurology residents;
Research Scholarships for medical students.
Recipients of Neurology Resident annual meeting scientific scholarships are able to apply new skills and share knowledge with colleagues within their academic institutions and practice settings.
Make a donation to support FCMSC Annual Meeting scholar
2017-2022 Medical Student Research Scholars and Mentors
One of the most promising ways to build a committed and competent MS Workforce of the Future is to expose students to new challenges under the mentorship of top-tier experts. The MS Summer Research Scholar program pairs medical students with an impressive group of leading MS research and clinical experts for two-month projects covering a wide spectrum of MS research.
Click here to read personal feedback from FCMSC Research Scholars and their mentors.
These students are invited to present the results of their work at the following year's CMSC annual scientific meeting, encouraging a new pool of passionate MS professionals.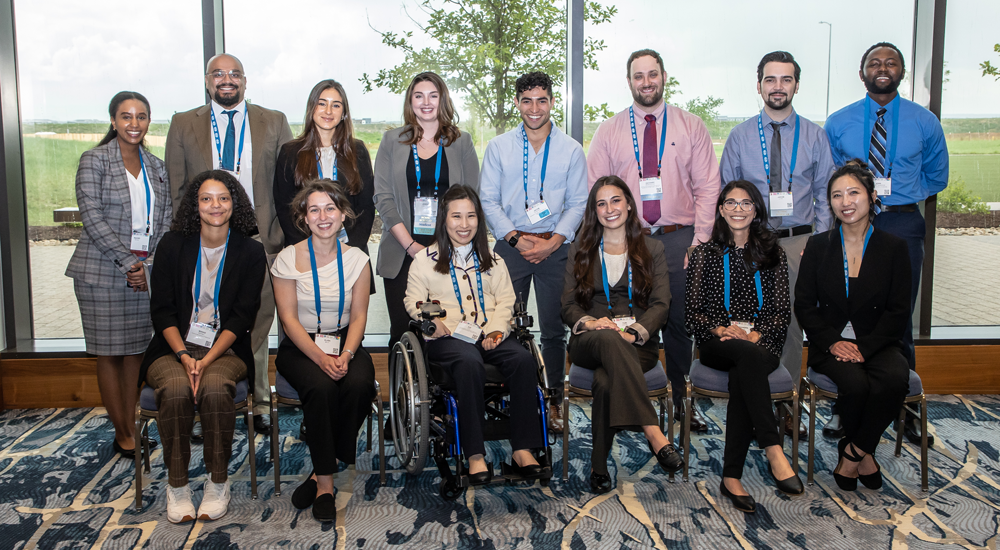 Results of the work of 2022 Research Scholars were invited for presentation at the annual CMSC meeting in May, 2023. The following scholars' work was presented in poster form.
FCMSC Medical Student Research Scholarship Presenters Annual Meeting 2023

Foundation of the CMSC
Research Scholar Presenters
Scholar
Research Project
Research Institution
Mentor
Jakob Alden
Patient and Provider Perspectives on the Ethics of Screening for Multiple Sclerosis
The Medical College of Wisconsin
Dr. Ahmed Obeidat
Elisa Bello
Increased Intrathecal Interferon-Gamma Is Associated with Paramagnetic Rim Lesions
UMass Chan Medical School
Dr. Carolina Ionete
Jacob Cuevas
Transcriptomic Analysis Reveals That RGC-32 Regulates the Expression of Axonal Guidance Molecules in Reactive Astrocytes
University of Maryland School of Medicine
Dr. Horea Rus
Tori Fricker
Aerobic Cycling Improves Gait Velocity and Reduces Physical Fatigue in Persons with MS
Neurorestorative Rehabilitation Lab, Cleveland Clinic
Dr. Francois Bethoux
Jordan Glassman
A retrospective study on the effects of de-escalation of disease modifying therapy in patients with multiple sclerosis
Cleveland Clinic Lou Ruvo Center for Brain Health- Las Vegas
Dr. Le Hua
Samantha Hao
Integration of MS Risk Genes With Single Cell Transcriptomics
Johns Hopkins University
Dr. Kate Fitzgerald
Nahid Iseyas
Longitudinal Associations Between Physical Activity and Structural Visual Metrics in Pediatric Acquired Demyelinating Syndromes
The Hospital for Sick Children
Dr. E. Ann Yeh
Emilie Liu
Analysis of Evusheld Efficacy and Safety in Patients with Multiple Sclerosis
University of California-San Diego
Dr. Jennifer Graves
Alexia Richie
Longitudinal Walking Capacity in Pediatric-Onset Multiple Sclerosis Patients
Pediatric MS & Related Disorders Clinic, University of Virginia Health System
Dr. J. Nicholas Brenton
Rishi Sharma
Analysis of plasticity by functional MRI in multiple sclerosis patients with high vs. low risk for cognitive impairment: a proposal
University of Minnesota
Dr. Adam Carpenter
Zachary Weinstock
MRI and Cognitive Reserve Not Linked to Relapse-Associated Cognitive Decline
Buffalo Neuroimaging Analysis Center/ Jacobs MS Center
Dr. Michael G. Dwyer, III
Inserra Family
Research Scholar
Scholar
Research Project
Research Institution
Mentor
Alexandra Altamura
Effects of Social Engagement on level of Adjustment in Multiple Sclerosis Patients at Time of Diagnosis
Hackensack Meridian University Medical Center
Dr. Krupa Pandey
Foundation of the CMSC
Guest Scholars
Scholar
Research Project
Research Institution
Mentor
John DegraftHanson and
Minnie Mitchell
Assessment of Medical Student Interest in Neurology as a Specialty
Morehouse School of Medicine
Kie Fuji
Implementing a Community-Based Virtual Tool to Characterize Sidewalk Accessibility in a Northern New Jersey (NJ) Town
Hackensack University Medical Center
The Foundation of the CMSC salutes the supporters of MS Workforce of the Future initiatives:
Basic Home Infusion (BHI)
Biogen
Bristol Myers Squibb (BMS)
Consortium of Multiple Sclerosis Centers
EMD Serono, Inc.
Inserra Family
Novartis Pharmaceuticals
With your help and support of the Foundation of the CMSC, we can ensure that future generations of people with MS will receive the quality healthcare they need and deserve.