It is currently estimated that more than 400,000 Americans and 2.5 million people worldwide are living with MS. In order for MS patients to continue receiving the best care for generations to come, it is imperative that the workforce of MS healthcare professionals be large enough to meet the growing demands.
The CMSC has focused on aggressively recruiting and training the community of dedicated specialists in the field. Our goal is to encourage medical students and other healthcare professionals to choose MS as an initial focus of study or to pursue more advanced and specialized training as part of their studies. Recipients are able to apply new skills and share knowledge with colleagues within their academic institution and practice settings.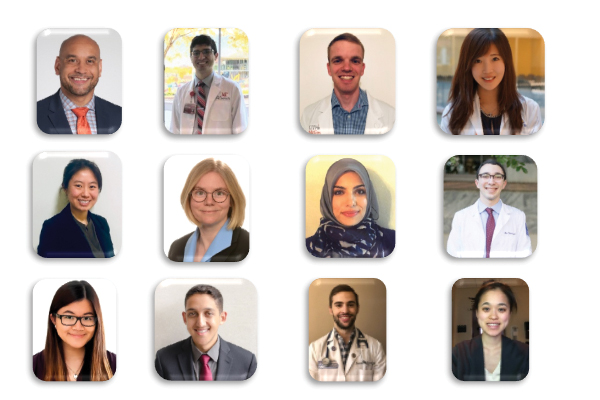 By increasing the number of well-trained healthcare professionals in MS, and ensuring that they are well-trained and well-prepared, we can continue to deliver the finest care, improve the quality of life for patients and families living with MS, and ultimately find a cure.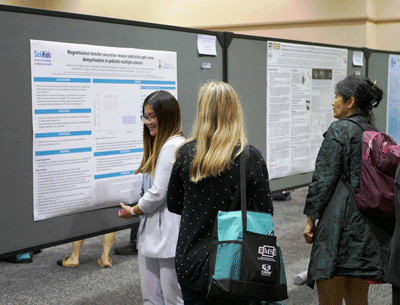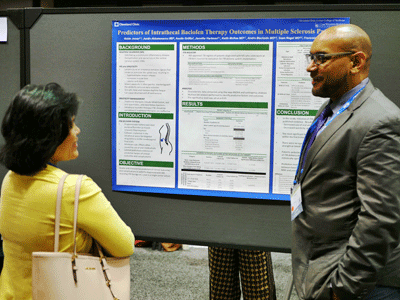 For the CMSC to continue providing comprehensive care and specialized services to MS patients, it is paramount that the community of MS professionals has access to specialized training.
Make a donation to support FCMSC Annual Meeting scholar
The Foundation of the CMSC funds scholarships for:
Neurology residents;
Research Scholarships for medical students.
Recipients of Neurology Resident annual meeting scientific scholarships are able to apply new skills and share knowledge with colleagues within their academic institutions and practice settings.
---
FCMSC Medical Student Research Scholars and Mentors
Click here to view the previous Medical Student Research Scholars and Mentors
One of the most promising ways to build a committed and competent MS Workforce of the Future is to expose students to new challenges under the mentorship of top-tier experts. The MS Summer Research Scholar program pairs medical students with an impressive group of leading MS research and clinical experts for two-month projects covering a wide spectrum of MS research. Click here to read personal feedback from FCMSC Research Scholars and their mentors.
These students are invited to present the results of their work at the following year's CMSC annual scientific meeting, encouraging a new pool of passionate MS professionals.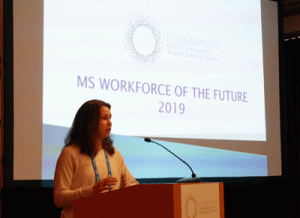 Results of the work of 2018 Research Scholars were invited for presentation at the annual CMSC meeting in May, 2019. The following scholars' work was presented in poster form.


FCMSC Medical Student Research Scholarship Presenters Annual Meeting 2019
Scholar
Research Project
Research Institution
Noble
Jones
Predictors of Intrathecal Baclofen Therapy Outcomes in Multiple Sclerosis Patients
Mellen Center for MS Treatment & Research/ Cleveland Clinic Foundation
Samuel
Marcucci
Lymphopenia Risk and Lymphocyte Subset Alterations in Multiple Sclerosis Patients Treated with Ocrelizumab: A Preliminary Report
The University of Cincinnati and The Waddell Center for Multiple Sclerosis
Nicholas
Moll
Multi-Class Segmentation of Multiple Sclerosis Lesions using Confolutional Neural Networking in the Combirx Cohort
MRI Analysis Center, McGovern Medical School at UT Health
Youkyung Sophie
Roh
Initiation of Higher-Efficacy Disease-Modifying Therapy and Depressive Symptom Evolution in Patients with Multiple Sclerosis
Johns Hopkins University School of Medicine
Bingyan
Shi
Tracking Scanning Laser Opthalmoscope as a Prognostic and Monitoring Tool in Multiple Sclerosis
University of California, San Francisco, Multiple Sclerosis Center
Sonya
Steele
Magnetic Resonance Imaging and Clinical Findings in Health, Genetically Characterized, Asymptomatic First-Degree Relatives in Multiple Sclerosis Patients and Health Controls
National Institutes of Neurological Disorders and Stroke
Leena
Suleiman
Biosensor Detection of Upper Limb Dysfunction in Multiple Sclerosis
University of California, San Francisco
Alex
Waldman
Sexually Dimorphic Multiple Sclerosis Pathogenesis
Emory University School of Medicine
Kimberley
Young
Magnetization Transfer Saturation Reveals Subclinical Optic Nerve Demyelination in Pediatric Multiple Sclerosis
SickKids Research Institute
Andrew
Yousef
Eye-Tracking in Pediatric Multiple Sclerosis
University of California-San Francisco Pediatric Multiple Sclerosis Center
Zachary
Zapatero
Comparison of White Matter Lesion Burden Identified on 3T and 7T MRI in Pediatric-onset Multiple Sclerosis: Preliminary Findings
Children's Hospital of Philadelphia
Melissa
Zhou
Course of Clinical Multiple Sclerosis in Children with the Radiologically Isolated Syndrome
Yale School of Medicine
The Foundation of the CMSC salutes the supporters of MS Workforce of the Future initiatives:
AbbVie, Inc.
Bayer HealthCare Pharmaceuticals, Inc.
Biogen
Celgene Corporation
EMD Serono, Inc.
Inserra Family
Mallinckrodt Pharmaceuticals
Novartis Pharmaceuticals
Sanofi Genzyme
With your help and support of the Foundation of the CMSC, we can ensure that future generations of people with MS will receive the quality healthcare they need and deserve.