Consortium of Multiple Sclerosis Centers (CMSC) is pleased to announce that the Design for Rehabilitation competition will be held again at the 34th Annual Meeting, May 27-30, 2020 in Orlando, Florida. The first annual contest in Seattle was a great success. Six talented engineering students presented their unique device, won the crowd and a life-learning experience. Team leader Mikaela Morelli will be returning to help run this year's second event.

What to do:
Contact your local engineering school (ME, BME, EE) before beginning of fall or spring semester—these departments are always looking for student project ideas.
Identify a patient (client) with a "need" that can be helped with a unique device not commercially available (or improve or add to an existing device.)
Assemble the team: engineering students and their faculty advisor, health-care provider, AND the patient.
Purpose:
Connects MS clinics, engineering schools, and patients.
Fabricate a device that improves quality of life.
It's about education, and rapid solutions that work for patients.
Present at CMSC 2020 and compete for the award.
Advice:
Meet regularly with your team.
Experience the design process.
Best is that the client participates.
Help young engineers learn about real-world challenges and contribute to MS care.
Enter the Design for Rehabilitation Challenge and present your creation.
Rules:
Team must consist of at least one multiple sclerosis provider or health care professional (MD, PT, OT, etc…), the client (MS patient), engineering student(s) and engineering faculty adviser.
Identify a challenge to the MS patient that can be met by a unique device.
Design, build, and test the device.
A letter of intent, video or PowerPoint presentation and report are required.
A poster is recommended
Entries will be judged according to quality, impact, presentation, and team effort.
Best entry will receive a plaque and cash award. Prizes also awarded to top three entries.
Allowed:
Devices with a user interface, mechanism, microcontroller, and software.
Devices with no electronics.
Partnership with local industry.
Pure software entry is not encouraged.

Prepare a letter of intent to enter by APRIL 1, 2020.
Do NOT describe in detail the device or its purpose in the letter of intent.
Do express your interest and list team members, team leader, faculty advisor, healthcare professional and client.
Submit your report by May 1, 2020.
Report must be 1-2 pages long and outline the specifications of the device.
Submit the video or PowerPoint presentation by May 13, 2020.
Present your creation in a five to ten minute video or PowerPoint presentation and poster at the 2020 CMSC meeting.
Student Benefits:
Networking with professionals
Free conference registration
Social events
Technology exposure

Please contact the organizers for more information or to register for the competition.

Design for Rehabilitation Contest Organizers:
Christopher Luzzio, MD
luzzio@neurology.wisc.edu
Mikaela Morelli, BME Student
mikaelamorelli.6@gmail.com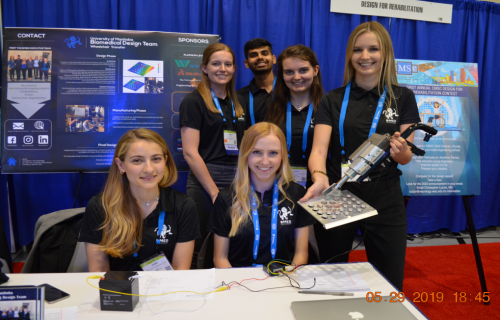 CMSC 2019 Design for Rehabilitation contest winning team.
Wheelchair Transfer Project Biomedical Engineering Design Team
University of Manitoba

View PDF file.